Stink Week 2016: February 29th - March 6th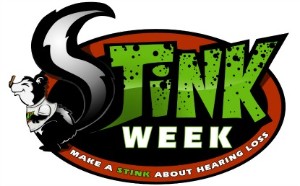 Welcome to Stink Week 2016!
Every day during Stink Week, we will post facts and challenges about hearing loss. Remember to check back every day and encourage your family and friends to check it out too! 
Click the day listed below to learn, share, and let us know how YOU raised awareness about hearing loss today!
Day 1: Hearing & Hearing Loss
Day 2: Communication & Hearing Loss
Day 3: How the Decibels Foundation Supports Children with Hearing Loss & their Families
Day 4: Sign Language
Day 5: Hearing Aids 
Day 6: Cochlear Implants
Day 7: Protect Your Hearing
---
Thank YOU for Supporting Children with Hearing Loss!
---
QUESTIONS? 
Contact Bonnie Fitzpatrick at b.fitzpatrick@decibelsfoundation.org
or (978) 637-2622.