Stink Week 2016: February 29th - March 6th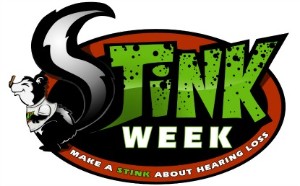 Welcome to Stink Week 2016!
Stink Week is a week-long campaign to RAISE AWARENESS and RAISE FUNDS to support children with hearing loss and their families!
Click here to meet our 2016 Stinkers and make a donation today! 
Click here to learn more about Stink Week and how one 4th grader, Jack, started this all!
---
Raise Awareness
Every day during Stink Week, we will post facts and challenges about hearing loss. Remember to check back every day and encourage your family and friends to check it out too! 
Click the day listed below to learn, share, and let us know how YOU raised awareness about hearing loss today!
Day 1 (Monday, February 29th)
Day 2 (Tuesday, March 1st)
Day 3 (Wednesday, March 2nd)
Day 4 (Thursday, March 3rd)
Day 5 (Friday, March 4th)
Day 6 (Saturday, March 5th)
Day 7 (Sunday, March 6th)
---
Raise Funds
Since Stink Week started in 2011, Stinkers have raised over $82,000 to support programs for children with hearing loss & their families! As you ask friends and family members to donate to your fundraising page, let them know some of the ways the foundation uses their donations:
$25 can provide a Sign Language Book to an Early Intervention family
$50 can provide books and materials for an Early Intervention Curriculum Unit
$100 can pay for one speech therapy lesson to a child
$500 can provide five consultation visits to a school district
$1000 can help sponsor a child in Early Intervention for 3 months
$2000 can help support one month of the Sound Start Hearing Aid Loan Bank at Children's Hospital Boston
Thank YOU for Supporting Children with Hearing Loss!
---
Daily Updates on Stink Week Teams!
---
Special Thanks to our Stink Week 2016 Sponsors!
| | | |
| --- | --- | --- |
| | The Klapinsky Family | |
| | | |
---
QUESTIONS? 
Contact Bonnie Fitzpatrick at b.fitzpatrick@decibelsfoundation.org
or (978) 637-2622.