Annual Boston Children's DHHP Fall Seminar
Monday, November 5, 2018 9:30 am - 1:00 pm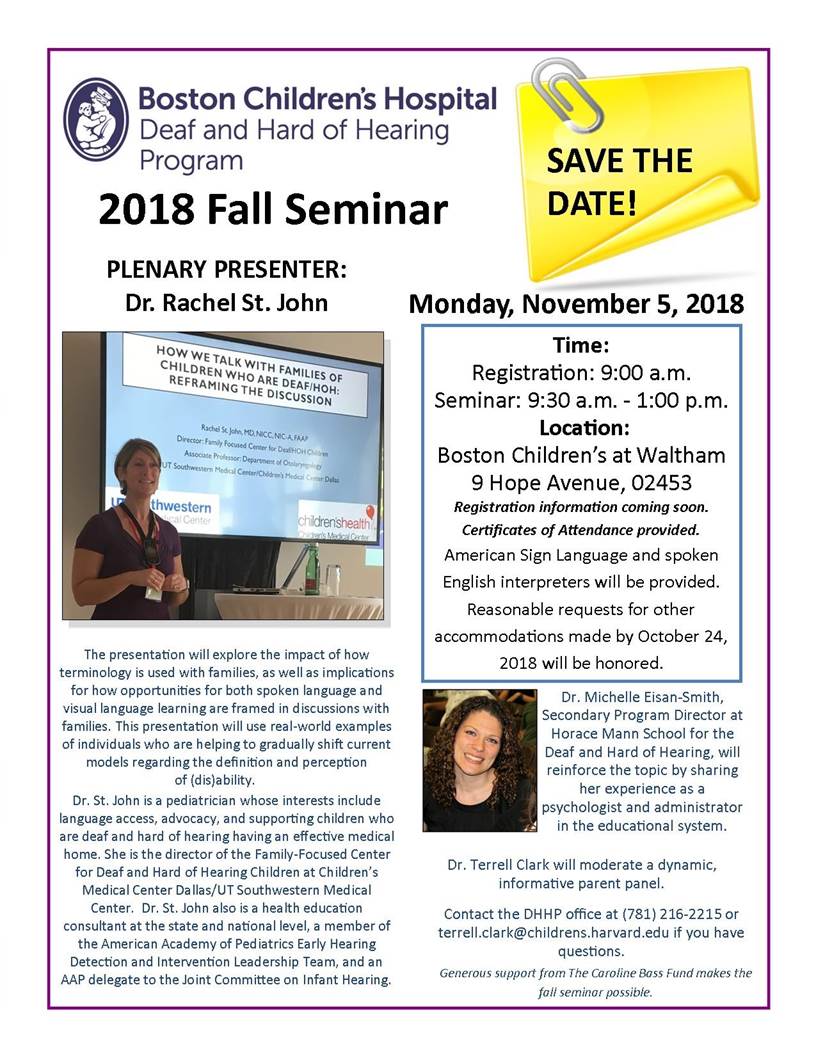 Location:
Boston Children's at Waltham, 9 Hope Avenue, Waltham, MA
Description:
This year's Fall Seminar will be held at the Waltham site of Boston Children's Hospital on Monday, November 5, 2018, from 9:00 a.m. to 1:00 p.m. in the Deveber Conference room. Featured plenary presenter this year is Dr. Rachel St. John who will present on How We Talk with Families of Children who are Deaf/HoH: Reframing the Discussion. Dr. Michelle Eisan-Smith will share her experience as a psychologist and an administrator in the educational system. These presentations will be followed by a panel of dynamic parents moderated by Dr. Terrell Clark, director of the Deaf and Hard of Hearing Program.

The seminar promises to be informative and practical – designed to appeal to educators, early intervention providers, program administrators, special education personnel, school psychologists, audiologists, speech and language pathologists, clinical professionals, and especially to parents of deaf and hard of hearing children. For providers with limited experience and providers with considerable experience in the field, this is a great opportunity to consider the power of words and re-visit, re-frame, re-consider perspectives in a collegial forum.

Certificates of Attendance will be provided. Registration is required as seating is limited by the capacity of the meeting space. The registration information will be distributed soon. Feel welcome to forward the save the date flyer to colleagues and co-workers who may be interested in attending. Questions may be sent to terrell.clark@childrens.harvard.edu or (781) 216-2215.