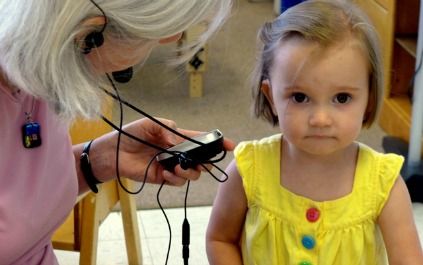 Sound Start Hearing Aid Loan Program
Sound Start provides high-quality, expertly fitted hearing aids for children on a temporary loan basis until the family secures funding for permanent hearing aids or until the child's hearing loss is treated in another way, such as cochlear implantation or middle ear surgery. Families pay a small fee per aid for a loan of six months, including earmolds. The Caroline Bass Fund also now reimburses the hospital for the audiologist's time. At any one time, approximately 35 children are enjoying the gift of hearing through Sound Start hearing aids. Without this program, many babies would experience a significant delay in beginning to hear the sounds of their life and their parents' words.
Cochlear Implant Spare Parts Bank
The Cochlear Implant Spare Parts Bank was conceived as a small project to help a few indigent families to purchase batteries, cables, and repairs for their children's sound processors that were not covered by medical insurance. The need has proven to be far greater than anticipated, as batteries alone cost $400 per year per implant and are not covered by some insurance plans. Some children would have to take their processor off when they get home from school to save the batteries for the next school day if the Caroline Bass Fund did not provide batteries for them to share the family dinner table conversation.
Bone Conduction Hearing Implant Program
Funding for this program helps to provide emergency spare parts to implantees and informational materials to prospective patients and their families. Funded through the Caroline Bass Fund for the Otolaryngology Department for Boston Children's Hospital, projects are intended and limited to patients of Boston Children's Hospital and their families.