Day Five - Cochlear Implants vs. Hearing Aids
---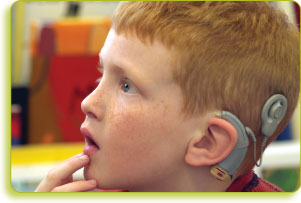 Cochlear implant
Did You Know? 
Cochlear implants and hearing aids function very differently. 
A hearing aid amplifies sound, and can be most beneficial for someone with mild – severe hearing loss. Most people with hearing loss are candidates for and can benefit from hearing aids
A cochlear implant bypasses the cochlea (inner ear) and stimulates the auditory nerve through device that is implanted. To be a candidate for a cochlear implant, a person usually has a severe to profound hearing loss and does not benefit from hearing aids. 
For a more detailed explanation, check out this link: https://www.starkey.com/blog/2017/01/cochlear-implant-or-hearing-aids
---
In the News
Have you seen Deaf singer Mandy Harvey's incredible performance on "America's Got Talent"? To successfully sing and perform music, Mandy uses the vibrations that she feels. Watch her sing an original song, and get Simon Cowell's approval!
---
Today's Challenge
It's day 5 of Stink Week and we are half way to our goal!  Thank you everyone for your amazing effort to raise awareness and funds for children with hearing loss and their families!  We couldn't do this without you! As we're in the final stretch, please share StinkWeek.org with those around you and help us make it to our goal! 
Discussion: What have you learned this week that you didn't know before about hearing loss?  If you know someone with hearing loss, has this changed how might interact with him or her? Please share your feedback with us on The Decibels Foundation's Facebook page.  
Thank you for helping us make a STINK about hearing loss!