Day One - Sign Language
---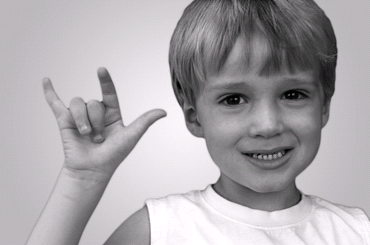 Did You Know?
Did you know there are primarily two types of sign language in the English language?  American Sign Language (ASL) and Signing Exact English (SEE).
American Sign Language (ASL)
ASL is a language with its own unique rules of grammar and syntax. ASL is a visual language, and facial expressions and body movements play an important part in conveying information. Sign language is not a universal language — each country has its own sign language, and regions have dialects, much like the many languages spoken all over the world.
Signing Exact English (SEE)
SEE is a visual language modeled after English. It is a sign system that matches signs with the English language. It is used primarily by children who are deaf or hard of hearing and their families, friends and teachers as a way for learning spoken English. 
For more on each sign language, follow these links:
American Sign Language
https://www.nad.org/resources/american-sign-language/learning-american-sign-language/
Signing Exact English
https://www.signingexactenglish.com/?pageid=2
---
In The News
Have you seen this recent TV commercial featuring sign language from Marriott International?
---
Today's Challenge
Using the chart below, learn to finger spell your name. Try the names of your friends and family members!  
BONUS: When you're finger spelling, try not to mouth each letter as you spell it.  Try saying your name slowly as you are spelling it.