Deaf and Hard of Hearing Athletes
---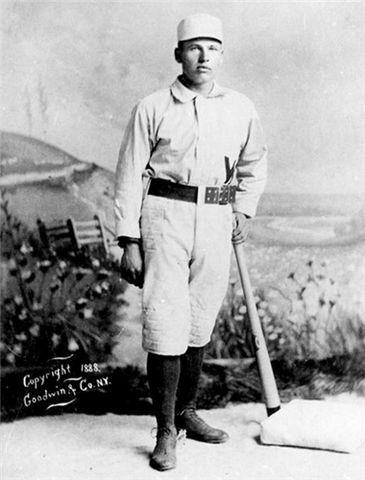 Baseball player, William Ellsworth "Dummy" Hoy (1862-1961) was born in Houcktown, Ohio in 1862. He became deaf when he was three after being sick with meningitis. He went to school at the Ohio School for the Deaf where he learned to communicate using American Sign Language (ASL). Deafness did not slow him down! He grew up to play (and make improvements in) major league baseball for 14 years! After retiring from baseball, he and his wife ran a dairy farm and had six children. Hoy lived to be 99 years and 5 months old!
---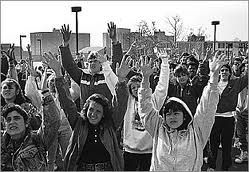 Hoy taught his teammates sign language so that they could communicate on the field. Applause in sign language isn't clapping. Hoy's hearing fans learned how to cheer him on using sign. Applause in sign language is done by raising your hands and waving them around instead of clapping (see picture to the right).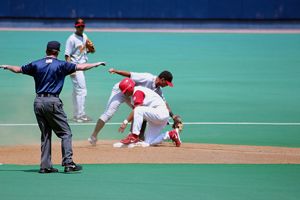 Hoy is best known for introducing signing into the sport of baseball. Since he couldn't hear when the umpire called a ball or a strike, he would look around to see the umpire and then he would miss the next pitch thrown. He talked with his coaches and umpires to come up with hand signals to communicate. To this day players, coaches, and umpires use hand signals to communicate. Even the signs for "Out" and "Safe" are based on sign language (see photo above).
Hoy was so fast  that he stole over 600 bases during his career! Here are a few more statistics: 1784 games, 2057 hits in 7053 times at bat, 1419 runs, 236 doubles, 118 triples, 41 homers, .292 average. If  you would like to learn more about him go to www.dummyhoy.com.
---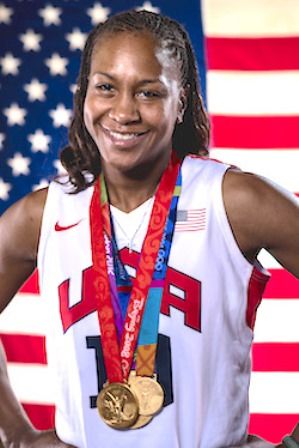 Tamika Catchings is a retired professional basketball player who also won three Olympic gold medals as a member of the U.S. Olympics Basketball Team! Tamika was born hard of hearing and has worn hearing aids since she was a child. Her hearing loss is moderate to severe just like Jonathan Hutcherson. Tamika says that she always just wanted to fit in, but stood out because of her hearing aids. Tamika describes being bullied and made fun of so much in school that she begged her parents to let her stay home. Tamika's father was a professional basketball player and becoming one herself helped her find a place to excel and be accepted.
Read this recent interview with Tamika and learn about the challenges and triumphs from childhood through her exceptional athletic career.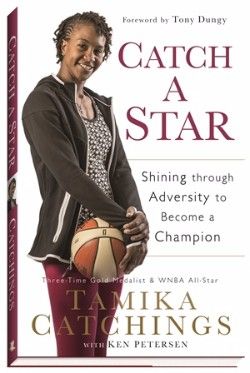 Tamika played for Indiana Fever of the Women's National Basketball Association for 15 years. She retired after the 2016 Olympics. But Tamika is more than an athlete! She is a community leader, philanthropist, and author!  In 2004 Tamika Catchings started the Catch the Stars Foundation to help disadvantaged youth find success in sports. She also wrote a book called "Catch a Star: Shining Through Adversity to Become a Champion". In the book she describes how some people told her when she was young that she would never be anything because of her hearing loss. She proved them wrong and is now an inspiring role model for so many!
During and after her career, Tamika has gained some impressive stats!
Rookie of the Year in 2002
League Most Valuable Player (MVP) in 2011
Championship and Finals MVP in 2012
Defensive Player of the Year in 2005, 2006, 2009, 2010, and 2012
Indiana Basketball Hall-of-Fame Inductee in 2015
Former President of the WNBA Players Association
Currently serves as the Vice President of Basketball Operations and General Manager for the Indiana Fever.
---
Deaf and Hard of Hearing Olympians
In recognition of the 2020 Olympic Games, here are some Olympians who were deaf and hard of hearing:
Frank Bartolillo (Australia, Fencing) - 2002 Olympics
Tamika Catchings (USA, Basketball) - 2016 Olympics
Jeff Float (USA, Swimming) - 1984 Olympics
Carlo Orlandi (Italy, Boxing)- 1928 Olympics
David Smith (USA, Volleyball) - 2012 Olympics
---
MEET JOSS - AMERICAN GIRL "GIRL OF THE YEAR"
She's a surfer. She's always up for a challenge. And, she is also hard of hearing. 
The popular American Girl doll company and the Hearing Loss Association of America teamed up together to bring fans Joss, the American Girl "Girl of the Year". Joss wears a hearing aid, and faces challenges as a surfer and when she tries out for the cheer squad. American Girl consulted with a deaf surfer, a professor at Gallaudet University and with an educational audiologist, among others, to create an accurate interpretation of what it's like to be a young girl with hearing loss, and the challenges that go along with it. Having a character like Joss in the American Girl family encourages readers to learn the concepts of free thinking, dedication, respect and teamwork. Learn more about Joss here.