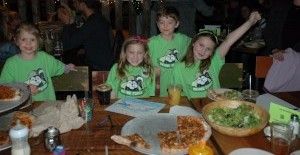 The foundation is pleased to announce that Flatbread in Bedford is once again hosting a Benefit Night in honor of Stink Week! Join us on Tuesday, February 28th between 5-9 for pizza and raffles! A portion of all pizza sales (including takeout orders) will be donated to Stink Week.
Wear your Stink Week shirts, swap stories, and meet the children with hearing loss and their families who directly benefit from all your fundraising efforts! If you've come before, you know how much fun it is! If this is going to be your first time, get ready for lots of smiles and great food!
Hope to see you there!
Questions: Contact Bonnie Fitzpatrick at b.fitzpatrick@decibelsfoundation.org