Supporting the Child, Family, Teachers & School System after Early Intervention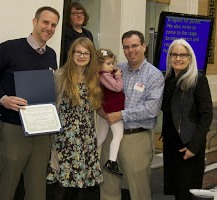 The Decibels Foundation supports children with hearing loss from infancy through high school. Dr. Honore Weiner, the foundation's Education Specialist, works with children and families as they make their transition from Early Intervention to Preschool and on throughout their school years, upon the request of their parents.
This photo illustrates the range of students supported by the Decibels Foundation. Bella, a freshman in high school in the photo, has worked with Dr. Weiner for over 7 years. While Phoebe, a preschooler at the time of this photo, has worked with Dr. Weiner during Early Intervention and in her transition to Preschool.
With more than 40 years of experience in educational programming for children with hearing loss, Dr. Honore Weiner provides essential supports to not only the child and parent, but to teachers and school professionals as well.
Dr. Weiner's consultation services may include, but are not limited to:
Program development and management

Inservice training for staff

Observation and feedback meetings with administrators, teachers, specialists and support staff;

Training on specific accommodations, strategies and methods

Discussions regarding specific issues or concerns, including changes in students' profile, needs and services
Consultation to school programs is intended to provide information, recommendations, training and support regarding the needs of children with hearing loss, including: functional assessment of the acoustic environment(s); understanding and implementation of appropriate accommodations, modifications, strategies and methodologies; consistency of implementation of approaches across contexts and settings; consideration of alternative instructional opportunities and decision-making regarding placement and services.  
For more information or to request services, please contact:
Shauna White 
s.white@decibelsfoundation.org