Early Intervention Hearing Loss Programs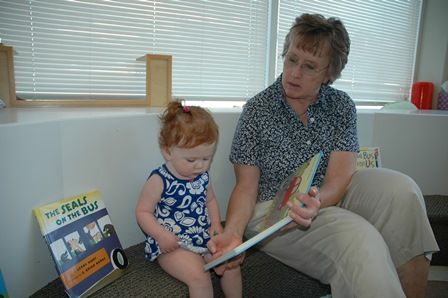 The cornerstone of the Decibels Foundation's work is at the Minute Man Arc Early Intervention Hearing Loss Program in Concord, MA.  In 2002, Minute Man Arc collaborated with the Decibels Foundation to develop the first Early Intervention Program in Massachusetts to provide comprehensive, on-site services for children with hearing loss (ages 0-3) and their families. This program was modeled after the highly successfully Thayer Lindsley Program for Deaf and Hard of Hearing Infants and Toddlers at Emerson College in Boston. 
How to refer a child with hearing loss to Minute Man Arc
If a parent has an infant or toddler with hearing loss...
Parent should contact Linda Roth by phone (978-287-7820) or email (lroth@minutemanarc.org) to find out the details of our program and set up a visit. If a parent emails Linda and does not hear back within 48 hours, they should call her instead, as our email system may have blocked them. If the family did not hear about the program from their local early intervention, they should discuss the program with their service coordinator.

Parent should fax a copy of the audiogram to the hearing loss program before coming to visit (Our fax number is 978-287-7801).

Family should visit the hearing loss program. Service coordinator may join them for visit.

If the family would like to attend the program, the service coordinator must complete an IFSP review page to add the hearing loss program to the IFSP. In addition, the service coordinator must complete a waiver, submit it to DPH for approval, and then fax it to our program. (Our fax number is 978-287-7801). The waiver gives permission for the child to attend 2 early intervention programs and to have increased time in parent group. Our program MUST have a copy of this waiver before a child can start in our program.

Family should bring their insurance card and a copy of the child's IFSP (and any other relevant reports) on the first day of playgroup.