How You Can Help!
There are many ways you can make an impact on the lives of deaf and hard of hearing children and their families.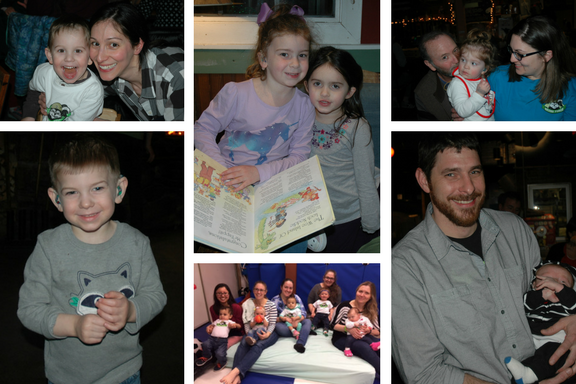 ---
Support our Fundraisers
The foundation raises the majority of it's funds through annual volunteer driven, fundraising events. Your can support these events by:
becoming a sponsor,
donating a raffle or silent auction item,
volunteering before or on the day of the event,
participating in the event, and
helping us spread the word about the event through email, social media and word of mouth. 
UPCOMING EVENTS:
Make Waves with Decibels Benefit Night: April 27, 2023 at Flatbread Co. Bedford, MA 5-9pm
21st Annual Golf Tournament: Monday, June 19, 2023 at Wedgewood Pines Country Club in Stow, MA
51st ASICS Falmouth Road Race: Sunday, August 22, 2023
Walk4Hearing: Sunday, October 1, 2023
---
Make a Donation
Your gift helps ensure that children with hearing loss and their families achieve their dreams!
$25 can pay for educational materials for the Minute Man Arc Early Intervention Hearing Loss Program in Concord, MA.

$50 can pay for an instructional sign language book for a Decibels' family.

$100 can pay for one speech therapy lesson for a child.

$500 can provide five educational consultation sessions for parents as they prepare to transition their child from Early Invervention to preschool.

$1000 can cover the cost of enrolling one child for 6 months at Minute Man Arc's Early Intervention Hearing Loss Program.

$3,000 can partially fund a one year scholarship to a graduate student studying pediatric speech and language therapy.

$5000 can fund 3 months of the Family-centered Outreach Program at Boston Children's Hospital.

---
Donate Your Time
Volunteer with the Decibels Foundation! Check out our current volunteer opportunities.
Connect with Us on Social Media! Building an online community is just as important as getting donations. Help us broaden our social impact by following us today!