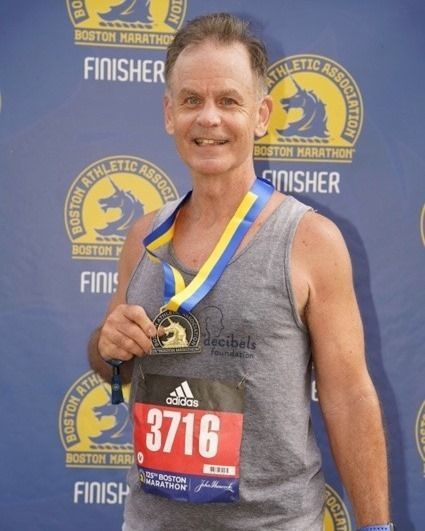 Littleton, MA (October 12, 2021) – On Saturday, October 11, 2021, Michael Livingston of Littleton, Massachusetts ran the historic Boston Marathon, the world's oldest annual marathon, to raise funds for The Decibels Foundation, a local non-profit organization providing specialized early intervention, educational services, family support, and access to essential technologies for children who are deaf and hard of hearing. Livingston exceeded his goals for both fundraising and the run, raising $2,500 to support these children and their families.
Livingston, a software architect and experienced distance runner, originally set his sights on running the Boston Athletic Association's Boston Marathon in 2005. Unfortunately, an accident shortly after he started serious training resulted in a broken back and a shattered ankle. After years of physical rehabilitation and countless surgeries, Livingston recovered but was left with a fused ankle that made running difficult. Undaunted, he started training again in 2016 to find his own pace and gait that would work with his immobile ankle. He ran a half marathon in 2017 and once again looked to the Boston Marathon. Livingston participated in the 2020 virtual Boston Marathon by running more than 100 laps on a local track before finally conquering the renowned marathon course from Hopkinton to Boston in 2021 with a time of 5 hours 43 minutes. 
"Mike's unrelenting determination to overcome a physical challenge is an accurate reflection of the determination we see every day from families and specialists supporting young children with hearing loss," said Brad Austin, President of The Decibels Foundation. "I've admired Mike for years, and we are honored that he chose to integrate Decibels into his impressive marathon run." 
Family, friends, coworkers, neighbors, and sponsors came together to support Livingston's marathon and together donated $2,500 to the effort. 
"The running community has a broad culture of giving and there are many worthy causes that benefit from the generous efforts of the runners, organizations, and donors," said Livingston. "I chose to run for Decibels because it is a cause close to home - one of my nieces is pursuing a Master's degree and career in audiology, and I know one of the young ladies and her family that have benefited greatly from Decibels' exceptional resources and support. The work that Decibels does on behalf of children who are deaf and hard of hearing is critical to them and their families."
Read more about Michael Livingston and his story at www.mygiving.net/campaign/Decibels-Runs-Boston-2021.